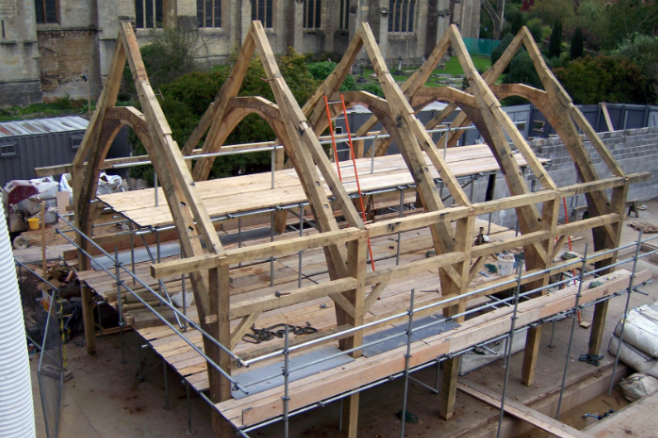 Oak & Timber Framed Buildings Cornwall
We have a passion for designing and constructing oak and timber framed buildings Cornwall and throughout the surrounding areas. We fabricate green oak and timber structures to your individual requirements and produce varied designs working closely with architects to create pleasing and functional buildings and structures.
There has been an increase in desire for green oak and timber framing over the last 20 years, principally this has been down to the trend of redeveloping old barns and houses. The desire to restore in an authentic manner has required research and documentation of ancient building techniques used in original constructions. This has enabled the old craft to be used widely, offering a green and practical approach to the sympathetic restoration of an old building in a modern context.
We happily take on any type of oak and timber project and can undertake traditional, contemporary, new build or conservation projects. Our work ranges from structures framed in the local vernacular style to contemporary engineered solutions.
What Oak & Timber Services Can We Provide?
All Types Of Oak & Timber Framed Buildings
Residential & Commercial Work Undertaken
Bespoke Oak & Timber Frames
Oak & Timber Framed Extensions
Balconies
Outer Buildings
Oak Framed Garages
Oak Framed Porches
Log Storages
Custom Built Furniture
Oak & Timber Roof Repairs & Renovations
Gates, Bridges & Garden Furniture
Estimates & Quotations